Council to celebrate emergency service heroes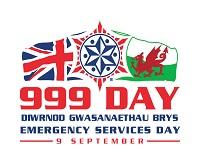 31 August 2021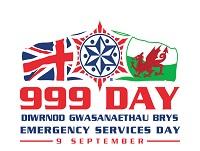 A flag will be flown outside three Powys public buildings next week to celebrate Emergency Services Day 2021, the council has said.
At 9am, on the ninth day of the ninth month, (Thursday 9 September), Powys County Council will be raising branded 'Emergency Services Day' flags to show support for the selfless NHS and emergency services heroes, and to remember over 7,500 members of the emergency services who, over the last 200 years, have been killed in the line of duty.
The flags will be flown outside Neuadd Brycheiniog in Brecon, County Hall in Llandrindod Wells, and Ladywell House in Newtown.
Approximately two millionpeople work across the UK emergency services, many of whom are volunteers, without whom the emergency services could not operate effectively.
Leader of Powys County Council, Cllr Rosemarie Harris said: "We are so proud to be celebrating the heroic men and women who work and volunteer in the NHS and emergency services.
"Emergency Services Day gives us a fantastic opportunity to thank and honour those members of our communities who spend their time protecting us, as well as thanking all emergency service workers from across the UK for their selflessness and commitment.
"It is also potential for anyone who is interested in a career as an emergency service worker, to find out more about the opportunities which are available.
"We are proud to be involved and support this campaign and my thanks go out to each and every one of you for your service."
Those who would like to get involved and show their support can do so by using the hashtag #999Day on social media.
For more information on Emergency Services Day and how to get involved, please visit https://www.999day.org.uk