Giant sandpit installed in Llandrindod Lake Park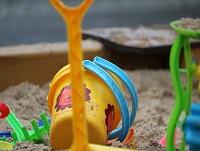 2 September 2021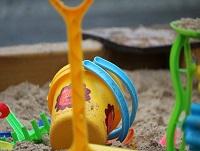 Children and families will get to enjoy the fun of the 'beach' all year round after a new play facility was installed in a mid-Powys town, the county council has announced.
A brand-new giant sandpit has been installed at Llandrindod Lake Park after Powys County Council was successful in securing £10,000 from the Welsh Government's Child Development Fund.
Opened on National Play Day (4 August) by the High Sheriff of Powys, Peter James MBE, the new facility has been developed by the council's Flying Start and Outdoor Recreations teams, HAF Llandrindod and Lakeside Boathouse.
HAF Llandrindod, a project from Severn Wye, were successful in securing National Lottering Community Funding for the sand while the Lakeside Boathouse will manage and maintain the sandpit.
The new attraction has already proved to be a popular attraction for children and families who have visited Llandrindod Lake Park.
"The new sandpit is an amazing asset to our little town, said local mum Karlene.
"My two little ones absolutely love it and can't wait to get their shoes off and jump in. It has created such a community feel to the lake, enjoying some chilled play time with other families."
Cllr Rachel Powell, Cabinet Member for Young People and Culture, said: "This has been such a positive resource for Llandrindod Wells, neighbouring communities and visitors. It has been fantastic to see so many young children and families enjoying this new sandpit, which has a prime location and is safely contained.
"Following the unsettling effects of COVID-19, this new facility has reinforced the prime location at the lakeside as an ideal intergenerational space, accommodating all ages, with outdoor resources that many have enjoyed this summer.
"I would like to thank HAF Llandrindod Wells, the Lakeside Boathouse and the council's Outdoor Recreation Officer for their collective involvement to establish this popular attraction. This is a great example of collaborative working that hugely benefits both children and families."