Summer of fun for Children at Powys activity sessions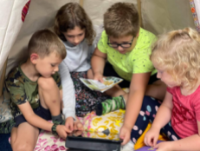 10 September 2021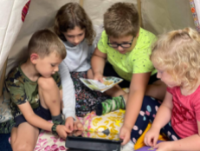 Activity sessions for children in Powys were held during the summer holidays, providing free accessible opportunities to play.
Powys County Council, in partnership with Freedom Leisure arranged free sporting activity sessions in eight different locations across the county. The sessions for children and young people aged 0 to 25 were held as part of Welsh Government's 'Summer of Fun' and 'Child Development Fund' funded project.
Fun activities included arts and crafts, science, sports, outdoor pursuits, theatre and dance, and woodland play, thanks to over 60 local partners.
Councillor Rachel Powell, Cabinet Member for Children's Services, said: "I am delighted that children and young people across Powys had the opportunity to benefit from summer activity sessions, thanks to funding from the Welsh Government and our local partnerships.
Now more than ever, children and young people need to engage in fun social interaction, so I am thrilled that over 13,500 children attended the free sessions in varies parts of the county.
Feedback from parents, carers and young people about the sessions have been very positive, and it sounds like everyone involved really enjoyed themselves."