Review of Council Tax discounts will see letters sent to some Powys residents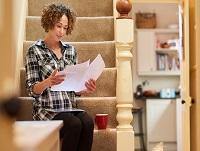 14 September 2021
Some Powys residents who receive a single person's discount on their Council Tax will shortly be contacted by the county council.
They will be asked if their circumstances have changed, since they made their original declaration, to determine whether they are still entitled to receive a 25 per cent discount on their bill, as the sole adult occupant of a property.
Residents who are contacted will be asked to either respond by text message, visit the council's website, and complete an online form, or complete a form on the back of the letter they receive. Postal forms will need to be returned to a Nottingham-based scanning facility that Powys County Council (PCC) uses to reduce its processing costs.
They will also be asked to complete the declaration promptly, as a £50 penalty may be imposed if they do not respond, and the discount they are currently receiving could also be removed.
Cllr Aled Davies, PCC's Portfolio Holder for Finance, said: "The council is keen to make sure that anyone who is entitled to the benefit of a single person's discount receives it, but we also want to ensure that only eligible residents do so.
"You must always tell the council if your circumstances change, and this includes telling us about any additional people living at your address, even if it is a temporary measure due to COVID-19. Supplying false information is fraud and we will take action if we find that a criminal offence has been committed."
More information on the single person's discount review is available on the council's website: https://en.powys.gov.uk/spdreview
If you suspect someone of committing fraud against PCC, you can report it online: https://en.powys.gov.uk/article/4825/Report-fraud or email: fraud@powys.gov.uk