'New Ways of Working' for council staff to go to Cabinet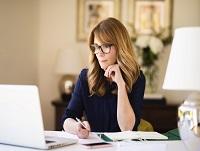 21 September 2021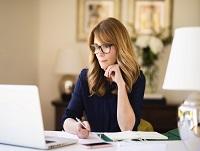 A new operating model, that could result in more than a thousand members of Powys County Council staff regularly working from home, is to be considered by Cabinet later this morning (Tuesday).
Senior councillors will be asked to back a 'New Ways of Working' plan, to build upon practices that have been successfully adopted during the pandemic, and allow staff to regularly home-work, or work from council offices or agreed partner facilities that are closer to their homes, so long as it does not affect the quality of council services.
The new operating model will also aim to cut the council's impact on the environment and help it achieve its aim of reducing its carbon emissions to net zero by 2030.
If approved, Powys County Council (PCC) staff are likely to fall into one of three workstyle categories in the future:
Place-based workers: Staff who are based at a particular location to fulfil their role, such as receptionists, library staff, and catering and cleaning staff.
On-the-go workers: Staff who are out and about in the community, directly delivering services, such as waste and recycling operatives, social care staff, and environmental health officers.
Flexible workers: Staff who can work flexibly from a variety of locations, including from home, such as legal staff, accounts staff, and housing officers.
Some staff may be asked to adopt more than one workstyle, depending on their role, and not all members of staff within the same service will necessarily be working in the same way.
Cllr Beverley Baynham, PCC's Portfolio Holder for Corporate Governance, said: "During the pandemic, the council was able to continue to deliver services with many staff working from home on a permanent or regular basis. Learning from this and in moving to New Ways of Working, the difference we will see is that those staff who have been working flexibly will, subject to service delivery needs, be able to work from home a lot more regularly and where staff need to work from an office, there will be a lot more flexibility as to where this could be.
"As there will be no change to job titles, job roles or the day-to-day work that staff are asked to do, there will be no change to the terms and conditions of employment for staff, who will therefore be able to claim any expenses in the normal way in line with current conditions and guidance. All staff will continue to have a nominated corporate work base, from which they can claim travel and subsistence expenses."
Cabinet will be asked to approve the implementation of the 'New Ways of Working' plan from October 2021 onwards, with each service moving to adopt it at a time that suits its needs and the needs of the Powys public.
An exercise carried out by the council, earlier this year, established that more than 1,300 employees could potentially continue to work from home on a regular basis, in line with the flexible workers workstyle.
The full report can be found here: https://powys.moderngov.co.uk/documents/s62111/NWOW%20Cabinet%20report%2021%20Sept%202021%20FINAL.pdf