New vehicles boost for Powys Commercial Recycling
24 September 2021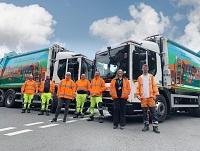 Powys Commercial Recycling has seen another boost to the service it can offer customers with the arrival of three new dedicated collection vehicles.
The new, bespoke and eye-catching lorries now ensure Powys Commercial Recycling can offer businesses, organisations and events consistent and reliable collections of food, paper and card, plastics and cans, glass, garden waste and residual waste.
"Every business and organisation have a duty of care, by law (Environmental Protection Act 1990, Section 34), to ensure that their waste and recycling is processed correctly, including any waste that comes from businesses run from home, including holiday accommodation." Explains Cllr Heulwen Hulme, Cabinet Member for Waste and Recycling.
"It is important for businesses to know what they can and can't do with their waste to comply with these regulations and avoid any hefty fines. Powys Commercial Recycling works with their customers to ensure they process their waste lawfully, whilst also doing their bit for the environment by recycling as much as possible.
"These three new Powys Commercial Recycling vehicles will ensure we can service all our existing clients and take on new customers who wish to improve their recycling and abide by the environmental legislation."
Powys Commercial Recycling is already helping over 1,000 businesses, organisation, charities, schools, and events do their bit for the environment and offers a cost-effective recycling and waste collection service.
For more information on Powys Commercial Recycling, or to request a free waste audit and quote for a bespoke, cost effective and efficient service for your business, please visit: www.powys.gov.uk/commercialrecycling