New laptops delivered to learners in Powys schools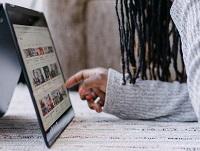 1 October 2021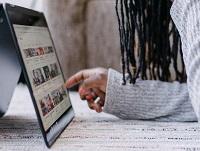 More than 800 new laptops have been delivered to Powys schools during September, for learners to use, thanks to a Welsh Government initiative.
Powys County Council (PCC) has been able to provide the 848 Chromebooks as part of a £517,331 investment from the Welsh Government's Hwb EdTech programme. The programme supports the transformation of digital infrastructure of all maintained schools in Wales.
The council's Digital Services Team procured the laptops, as part of its Digital Powys programme of work.
Cllr Phyl Davies, PCC's Portfolio Holder for Education, said: "I'm delighted that we have been able to provide these Chromebooks thanks to funding from the Welsh Government's Hwb EdTech programme. It is important that our learners have the best IT equipment available, so that they can thrive and reach their full potential.
"We are trying to create a digitally-rich schools' sector that improves the learning experience that's available to all of our children and it is one of the guiding principles of our Strategy for Transforming Education in Powys 2020-2030."
Cllr Beverley Baynham, PCC's Portfolio Holder for Corporate Governance, added: "I'm pleased that our Digital Services Team has been able to support this initiative, as part of our Digital Powys programme which aims to support our communities to gain digital skills."
The council's Digital Powys project is part of its Transformation Programme to deliver aspirations in its Vision 2025 corporate improvement plan.