Business Continuity Plan Update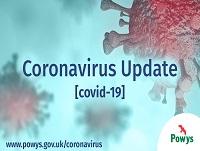 8 October 2021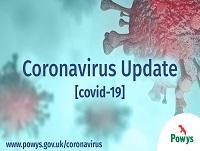 Powys County Council has announced a partial stepping down of its business continuity plan in response to an improving Coronavirus picture in the county.
The County Council originally triggered its Business Continuity Plan 18 months ago in response to the world-wide pandemic allowing services to focus on COVID-19 activities and step-down areas that were not business critical.
Services operated under the business-critical mandate until early May when areas apart from social services, public protection, and HR, returned to near business as usual as Wales reduced its alert level status.
However, the continuity plan was re-introduced late August when the County saw a sharp increase in Covid-19 cases particularly among young people as a new virus wave affected the country. At the same time, the impact of dealing with Covid over the past 18 months on staff, service providers and those who require support from Social Services were particularly acute, requiring the redeployment of staff from other services.
A meeting of the Council's strategic co-ordinating group today (Thursday) decided that all services apart from social services - both adults and children's services, HR and housing would return to business as usual from today.
Chief Executive, Dr Caroline Turner said: "Revoking the Corporate Business Continuity Plan for most services for a second time is an important step and reflects the improving picture in Powys. The county appears to be past the recent peak and thankfully has the lowest case rate in Wales over recent days.
"We will keep the plan in place for Social Services, HR and Housing because of the continued pressure on those areas.
"The lifting of the plan is positive but does not mean there will be a return to the pre-covid way of working. Office-based staff will still be required to work from home where possible, the focus and location of their work may change but operating procedures will not.
"We are making good progress with plans for new ways of working, but it is clear that business as usual will be very different in a post-Covid world.
Councillor Rosemarie Harris, Leader of the Council stated, "Although we appear to have passed the latest peak, we know that Covid has not gone away. We will remain vigilant and stand ready to address any new outbreaks, whether in specific settings or within the community.
"Stepping down the Corporate Business Continuity Plan is an important milestone and something to be welcomed but we must remain cautious," she added.