Monks Trod to reopen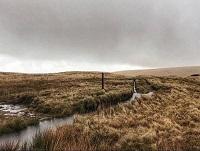 19 October 2021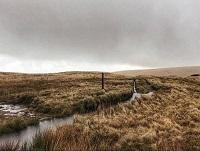 Following a temporary closure to assess whether surfacing and drainage work can go ahead, the historic Monks Trod will reopen this week.
The route crosses the Cambrian Mountains between Pont ar Elan in Powys and the Strata Florida Abbey in Ceredigion and is highly protected for environmental reasons. Together with Natural Resources Wales (NRW), independent ecological specialist and other stakeholders, the council has been looking at the likely effects of carrying out surfacing and drainage work on the iconic byway, which runs over naturally boggy and difficult ground and has become badly damaged leading to the temporary legal restrictions on use.
Before carrying out any work, we undertook a complex environmental assessment - known as a Habitat Regulations Assessment - to consider what effect any proposed repairs and improvements to the route within Powys might have on the whole of the area, which is designated as a Special Area for Conservation.
This assessment has now concluded, and despite much interest and feedback from all stakeholders, interested parties and the public, unfortunately the council will not be able to proceed with any proposed surfacing works at this current time.
"Whilst we know that everyone would benefit from an improved surface, the problem is that there is no convenient route to cross the peat bog at the county border with Ceredigion." Explains Cllr Heulwen Hulme, Powys County Council Cabinet Member for Environment. "The public would be left to find a way across this area and further environmental damage is likely to occur as a result, so the high standards of the Habitat Regulations for the area would not be met.
"Although the byway will remain permanently closed to all four-wheeled vehicles, including quad bikes, it will legally reopen to all other users on 20 October 2021, when the current temporary closure ends."
The public are asked to remember that the byway does run over rough wet terrain, through remote countryside, where there is no phone signal, and the weather can often be very poor. Before venturing out, the advice is to be prepared; check you have the appropriate gear, look at the weather forecast and make sure you have the right knowledge and skills needed to navigate the uneven and challenging terrain.
Together with Powys County Council, Natural Resources Wales will be working with the local police and path user groups to monitor and manage the Monks Trod byway and ensure that important messages are shared about protecting this special place.
Everyone is asked to take care of this fragile environment, where rare birds will be nesting on the ground in summer. Those on motorcycles are especially asked to stay on the line of the byway and not create other routes around it.