It's SCARY how much pumpkin ends up in the bin each year!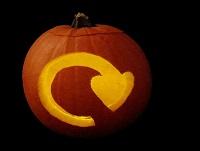 21 October 2021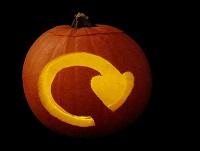 With Halloween drawing nearer, Powys residents are urged to make sure their leftover pumpkins don't meet a frightening end by being chucked away with the rest of the rubbish.
Across the country, 25% of all pumpkins bought at Halloween are thrown out with the normal household rubbish. That means a whopping 18,000 tonnes of pumpkin ends up in the bin. That would be enough for everyone in the UK to enjoy a tasty bowl of pumpkin soup.
Closer to home, spooky Powys residents will go through around 15,000 pumpkins this Halloween, creating around 75 tonnes of extra food waste in the process. What is most terrifying, is that most of this will only be used for decoration and won't even be eaten.
The council's recycling teams would like to remind us all as well as using the shells for carving, they can also make use of the insides of the pumpkins to make many delicious recipes such as pumpkin soup, pumpkin tart or even pumpkin lasagne. The seeds can even be baked for a delicious snack. You'll find loads of recipe ideas on the Love Food Hate Waste website: www.lovefoodhatewaste.com
Any bits of the pumpkin that aren't used, including the shell, can then simply be recycled by using the weekly household food waste collection service. Not only will this stop food waste going into landfill, it can create green energy and produce an environmentally-sustainable fertiliser to help Welsh farmers grow more food.
Cabinet Member for Waste and Recycling, Cllr Heulwen Hulme, said: "Most people in Powys do a great job of recycling their food waste each week. So this year, we really hope that they will keep up the good work and add any leftover bits of Halloween pumpkins to their food waste caddy.
"Some of the pumpkins can be quite large, so leaving it alongside the caddy is just fine. We'll pick it up and make sure it's sent off for recycling with the rest of the county's food waste.
"It is fascinating to know that for every ten tonnes of food waste we recycle, we help to create enough green electricity to power the average household for a year and goes a long way to support Wales' drive to create more green energy through anaerobic digestion plants.
"So please remember, once you've scooped out your pumpkin, eaten all you can, had fun making scary lanterns, just remember to pop your leftovers in the food bin and play your part in a cleaner, greener future."
More information on food waste, recycling, your kerbside recycling containers, or for handy hints and tips on what can and can't be recycled, please visit https://en.powys.gov.uk/recycle