Council leaders meet to discuss shared interests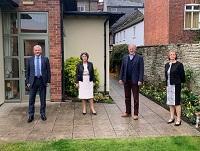 29 October 2021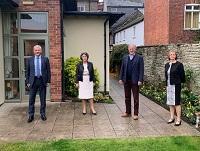 Areas of common interest and future joint working were topics of discussion when the Leaders, Cabinet members and Chief Executives of Herefordshire Council and Powys County Council met this week.
As well as a border, the two counties share many other interests such as the Rivers Wye and Lugg which flow through both counties, transport infrastructure, local communities and economic development. Powys is also without a hospital so places some reliance Hereford's hospital, and many students travel from Powys to the very successful colleges in Hereford.
Both counties have a strong agricultural background and have been similarly impacted by the pandemic and changes in the economic climate. The council leaders discussed areas of funding which could bring mutual benefit such as the Borders Growth Deal and the Levelling-Up Fund.
Key issues of concern to both councils include how to address the impact of phosphates on the environment and caring for an ageing population.
Councillor David Hitchiner, Leader of Herefordshire Council said: "It was a great pleasure to meet members of Cabinet from Powys. Cabinet members were surprised at the number of issues that we have in common. We look forward to exchanging views, learning from each other and working together in the future."
Councillor Rosemarie Harris, Leader of Powys County Council said: "We were delighted to meet colleagues from Herefordshire to discuss areas of mutual interest. Close co-operation between authorities is essential if we are to provide key services to our residents, who frequently live and work in different counties. We look forward to strengthen our future working arrangements."
A second meeting is planned for December, to continue the discussions and to develop opportunities to for working together.
Photo attached (left to right): Paul Walker, Chief Executive Herefordshire Council; Councillor Rosemarie Harris, Leader Powys County Council; Councillor David Hitchiner, Leader Herefordshire Council; Dr Caroline Turner, Chief Executive Powys County Council