Report counterfeit goods crimes to Crimestoppers
2 November 2021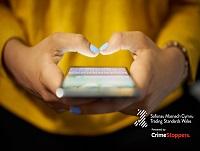 Residents and businesses who have purchased counterfeit goods, or know someone who has purchased them, can now report it anonymously to Crimestoppers.
Trading Standards Wales and the charity Crimestoppers have joined forces to provide a service that enables members of the public to anonymously provide valuable information to help keep communities safe and healthy.
It is the latest issue that the two organisations are working on to encourage members of the public to provide information on concerns they might have, 100% anonymously.
Helen Picton, Chair of Trading Standards Wales, said: "We're delighted to be working with Crimestoppers and giving members of the public a way to report these crimes anonymously.
"Counterfeit goods are often of poorer quality and can also be unsafe, posing a danger to you or your family. "Sellers of counterfeit goods may not refund you if things go wrong.
"Counterfeit goods crime also destroys jobs and businesses and funds organised crime."
There are several signs to spot when it comes to counterfeit goods:
Very cheap prices (if it seems too good to be true, it probably is!)
Poor quality and standards
Spelling mistakes on labels and packaging
Poor printing
Blurred images
Products sold in unusual places e.g. markets, car boot sales, pubs, clubs.
"If you think you have purchased counterfeit goods or know someone who has, then then report it to Crimestoppers on 0800 555 111 or visit http://crimestoppers-uk.org and tell them what you know. Your information can help keep communities across Wales safe," added Helen Picton