Pupils start new Welsh-medium immersion course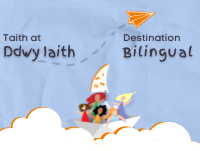 4 November 2021
A new immersion course for Powys primary school learners who have moved to Welsh-medium education has begun, the county council has said.
Powys County Council is providing the new provision in the county and it is the first time that it has offered an intense immersion course in a 'language centre'.
Known as 'Meistri Maldwyn', the face-to-face immersion provision provides an opportunity for newcomers to Welsh-medium education to quickly get up-to-speed with their Welsh-language skills and begin their journey to becoming bilingual.
Eleven junior pupils from five different schools across the county have started their seven-week immersion course at the language centre, based at Ysgol Dafydd Llwyd in Newtown.
The immersion course, which is being led by the council's Swyddogion y Gymraeg Service, is the first step in developing Welsh-medium education immersion provision in Powys and will be an important provision as the council looks to build a bilingual future for Powys and its young people.
Cllr Phyl Davies, Cabinet Member for Education and Property, said: "I'm delighted that we are offering this intense immersion course for the first time in Powys to those learners that have decided to switch to Welsh-medium education.
"Improving access to Welsh-medium provision across all key stages of education is one of the strategic aims in our Strategy for Transforming Education in Powys 2020-2030.
"The evidence from the rest of Wales is that bilingual/Welsh-medium provision offers the best opportunity for learners to become fully bilingual, whilst also creating a dynamic outward looking cultural environment.
"We want to improve access to Welsh-medium provision across all the key stages of education and increase the opportunities for children and young people in Powys, and those who move into the county, to become fully bilingual."
To find out more about Welsh-medium education in Powys, visit Destination bilingual.