Path improvements to Riverside Wildlife Walk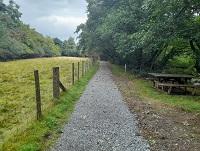 8 November 2021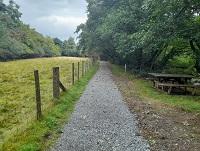 A river side path in mid Powys has been improved thanks to funding from Welsh Government, the county council has said.
A programme of countryside access improvement work, funded by the Welsh Government Access Improvement Grant, has allowed the surface of a river side path in Rhayader to be improved.
The path follows the River Wye from the rugby club and new pump track, round to South Street and is a popular path with both residents and visitors, forming part of the Riverside Wildlife Walk.
Powys County Council's Countryside Services has worked closely with Natural Resources Wales and local contractor R.F. Price Ltd to ensure any improvements do not damage the River Wye, being an environmentally protected site and within a flood plain.
The improved surface of the path has been created using crushed stone, with the excavated soil used to create shoulders. This helps to hold the crushed stone in place, and also vegetates faster, allowing it to blend into the surroundings quicker.
Cllr Heulwen Hulme, Cabinet Member for Countryside Services, said: "We're very grateful to Welsh Government for supporting us with this funding.
"These projects help us to continue improving our countryside and public rights of way, to allow them to be available for public use, as locally available public paths are incredibly important and should not be underestimated.
"This path is part of such a beautiful area, and I am so pleased that it has been improved in this way to allow all those who can access it, to access it."
The works were carried out in late August and early September this year, and the improvements are bedding in well and have been well received by the public.
You can find out more information on the Rhayader Riverside Wildlife Walk by visiting https://rhayader.co.uk/things-to-do/hiking-and-walking