New Radnor byway improvements completed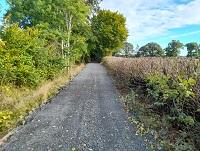 8 November 2021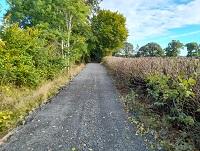 Improvements to a byway in mid Powys have recently been completed, the county council has said.
Due to the BOAT ND1323(A) at New Radnor being low lying in a river valley and on clay, the weight of the vehicles using the route was causing ruts to form, which in wet conditions, became filled with water and the clay became very slippery and sticky. This made the overall condition of the route difficult for walkers, cyclists and horse riders to use.
Powys County Council's Countryside Services has been working closely with local contractors Mervyn Price Plant Hire to improve the surface of the route to allow all user groups to have better access.
The contractors have been working to reinstate old drainage channels, as well as importing tonnes of stone to raise the surface above the surrounding clay. Work has also been undertaken to repair the ramps into the ford and repair abutments for the footbridge over the Summergil Brook.
Cllr Heulwen Hulme, Cabinet Member for Countryside Services, said: "I am delighted that the improvements to the byway have now been completed.
"The old surface had become damaged and therefore, it was essential that work took place to make the track better and more accessible for all."
These improvements have resulted in a nice, smooth track, making it easier for walkers, cyclists and horse riders to use.
If you would like more information on the work the council's Countryside Services Team does in managing rights of way and public access in the county then visit https://en.powys.gov.uk/countryside or contact us via rightsofway@powys.gov.uk or 01597 827500.