Awards success for county's Welsh-medium early years settings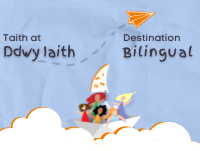 10 November 2021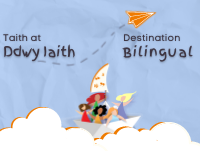 Welsh-medium early years settings in Powys have been recognised for their excellent work at a national awards ceremony.
Mudiad Meithrin, the leading Welsh-medium early years specialist in Wales, held their annual awards ceremony which celebrates and recognises all the excellent work at its Welsh-medium playgroups and day nurseries across Wales.
Now Powys County Council has congratulated the county's Cylch Meithrin's and the staff that were successful at the awards last month (October), which took place at The Great Hall, University Campus in Aberystwyth.
Carys Price from Cylch Meithrin Cylch yn yr Ysgol in Builth Wells picked up top honour in the award's Assistant category while Sioned Wyn Jones Roberts from Cylch Meithrin Glantwymyn picked up third place in the Leader category.
In the Committee category, the top spot went to Cylch Meithrin Glantwymyn with Cylch Meithrin Dyffryn Banw picking up third place.
In the Cylch Meithrin North-east category, there was a clean sweep by Powys settings with Cylch Meithrin Glantwymyn, Cylch Meithrin Drenewydd and Cylch Meithrin Pontrobert finishing first, second and third respectively.
Cylch Meithrin Cylch yn yr Ysgol in Builth Wells picked up second place in the Cylch Meithrin South-west category.
Cllr Phyl Davies, Cabinet Member for Education and Property, said: "It's extremely pleasing to see so many of the county's Welsh-medium early year settings recognised at this year's Mudiad Meithrin awards ceremony.
"Cylch Meithrin's play an important role at the beginning of a child's journey into Welsh-medium education and help them develop into a confident individual that is then ready to take the next natural step into Welsh-medium education at school.
"I would like to congratulate the Cylch Meithrin's and the staff for the success at this year's awards."
To find out more about Welsh-medium education in Powys, visit Destination bilingual.