Ceremony celebrates construction starting for new Welsh-medium school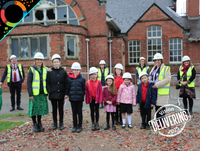 12 November 2021
A ceremony to mark the official launch of works on the building of a brand-new Welsh-medium primary school in Welshpool has taken place.
Powys County Council is building a new 150-place school with early years and community facilities for Ysgol Gymraeg y Trallwng in Welshpool, a school that was established in 2017 following a re-organisation process.
The project is being funded 50/50 by Powys County Council's and Welsh Government's 21st Century Schools Programme.
The 'Foundations for the Future' ceremony, which marked the official start of the works, took place on Friday, November 12.
Attending the ceremony was Cllr Rosemarie Harris, Leader of Powys County Council, pupils and staff from Ysgol Gymraeg y Trallwng and representatives from Wynne Construction, who are building the new school.
The innovative scheme for the new school combines the old and the new which will provide the pupils of Ysgol Gymraeg y Trallwng and the community of Welshpool with fantastic facilities whilst maintaining the presence of the iconic Ysgol Maesydre.
The old Grade II listed building will be refurbished to accommodate early years and community facilities and a new extension will be built to include a new school hall and classroom bases. The building will also be the first Passivhaus hybrid project in the UK.
The project will help the council deliver its Strategy for Transforming Education in Powys, an ambitious 10-year strategy that was approved in April 2020.
Cllr Phyl Davies, Cabinet Member for Education and Property, said: "Today's ceremony is an important milestone for this exciting project.
"When complete, the new school will provide the learners and staff of Ysgol Gymraeg y Trallwng with 21st Century facilities while preserving and modernising Grade II listed building for the community of Welshpool to use.
"It will also be built to Passivhaus standards and this will help the council meet its ambition to reduce carbon emissions to net zero as part of efforts to tackle climate change.
"We have a strategy to transform education in Powys and this project for Ysgol Gymraeg Y Trallwng underlines our commitment to deliver this important strategy. The new school will provide a learning environment that will allow learners and teaching staff to thrive and reach their potential through the medium of Welsh."
The Minister for Education and Welsh Language, Jeremy Miles, said: "I was really pleased to support the new Ysgol Gymraeg Y Trallwng through our 21st Century Schools and Colleges Programme, which will create a fantastic learning environment for children through the medium of Welsh, while maintaining the character of the original school.
"I'm looking forward to seeing this exciting project coming to fruition."
Angharad Davies, Headteacher at Ysgol Gymraeg Y Trallwng, said: 'We would like to say diolch yn fawr iawn for ensuring that Ysgol Gymraeg Y Trallwng and the wider community has the facilities that we deserve.
"This building, this school, will become our Welsh community. We will enrich the lives of everybody in our care and we will inspire the next generation by ensuring the very best education. We will develop our pupils and our community, and we will stand proud with our passionate Welsh hearts."
Lindsey Phillips, Chair of Governors for Ysgol Gymraeg Y Trallwng, added: "This project has faced significant challenges over recent years, but we are delighted that we have finally reached this momentous milestone.
"The pupils, staff, governors and wider community are eagerly anticipating the new building, where we will be able to build on the exciting and inspiring foundations that have already been laid at Ysgol Gymraeg Y Trallwng for Welsh education in Welshpool."
Steve Davies, Construction Director at Wynne Construction, said: "We are thrilled to be working with Powys County Council for the first time on a structure which is combining new modern facilities while also preserving the existing history of the old Ysgol Maesydre building for generations to come.
"This innovative development is particularly exciting, as although we have completed many projects following Passivhaus principles, this will be the first such site to be accredited as a Passivhaus building.
"We look forward to delivering a high-quality sustainable solution, as well as bringing additional employment opportunities and socio-economic benefits to the wider community of Welshpool."
For more information about Transforming Education in Powys, visit Transforming Education.
To find out more about Welsh-medium education in Powys, visit Destination bilingual.