Leader thanks Powys people for Queen's Baton Relay success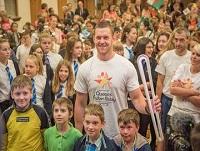 21st September 2017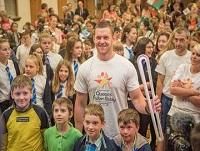 The Queen's Commonwealth Baton was welcomed to Powys with a full day of celebrations on Thursday 7 September.
A packed schedule of activities involving a variety of people put Powys firmly in the spotlight.
Leader of Powys County Council, Cllr Rosemarie Harris, said: "The Commonwealth Baton's visit to Powys was a spectacular day which we can be truly proud of.
"The Queen's Baton Relay is an extremely high profile event which sees countries of the commonwealth host the baton in turn on an international stage.
"We were fortunate to have the baton for a full day here in Powys and we welcomed the baton with great enthusiasm and warmth.
"Every detail from highways management to the local schools' involvement came together to make the day a resounding success.
"I would personally like to extend a big thank you to everyone who was involved on the day. Seeing first-hand how people came together for the event was inspiring.
"The events were supported by dozens of volunteers, council and police staff and many local organisations including CARAD, town councils, sports clubs, community groups, and businesses.
"Without these people, the event would not have been the success it was and I would like to congratulate each and every person who worked so hard to create a memorable day. You have done Powys proud."
The day started at Christ College, Brecon before travelling north to Rhayader where locals came out in force to support a spectacular carnival parade.
After leaving Rhayader, the Baton visited Llanidloes High & Primary schools followed by a stop off at the Plasdinam Estate to meet the descendants of legendary Welsh industrialist David Davies.
It then travelled to Ysgol Dafydd Llwyd in Newtown where the school pupils paraded their own unique batons.
Activities in Powys came to an end in Welshpool where over 400 local children took part in a World Marathon Challenge on Salop Fields.
Commonwealth Games Wales Chair, Helen Phillips said:
"The festivities in Mid Wales are a true reflection of what the Queen's Baton Relay is all about - bringing communities together with pride to celebrate the Commonwealth's diversity and create excitement ahead of the Gold Coast Games next year.
"We thank everyone in Mid Wales, and in other parts of the country, who have helped make the Welsh leg of the Relay such a memorable event."
You can view images from the event on the council's Flickr account www.flickr.com/photos/powyscc/albums