New careers and festive gifts at the Winter Fair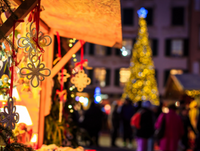 19 November 2021
Find yourself a new job and some festive gifts all in one place.
If you're visiting the Winter Fair come along and have a chat with our staff about the job opportunities in Powys County Council social care.
The council have job opportunities for qualified care staff, social workers, domiciliary care staff as well as individuals who want to begin their careers in social care and wish to work towards their NVQ qualifications.
Our fostering team will also be at the event to discuss how you can support children, young people and families by becoming a foster carer.
Powys County Council offer great employee benefits including excellent rates of pay and great training and development opportunities.
Leader of Powys County Council, Cllr Rosemarie Harris adds: "We are committed to delivering the best outcomes for our residents in Powys, so if you would like a new career opportunity, with a chance to make a positive difference and improve lives, then come along to the Principality building to chat to our friendly team."
If you're not visiting the Winter Fair and interested in finding out more about our job opportunities, visit https://en.powys.gov.uk/jobs