A 'Winter of Wellbeing' for Powys children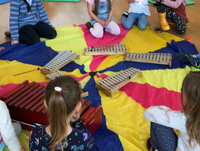 22 November 2021
More funding available to deliver activities for children across Powys over the winter months.
Powys County Council and partners ran activity sessions for children in Powys over the summer holidays, with over 11,000 sessions of fun activities taking place, thanks to Welsh Government funding.
The Summer of Fun scheme was well received, so building on its success, funding is now available for a 'Winter of Wellbeing', providing free activities to support the wellbeing of children and young people aged 0 - 25 years over the winter months.
Deputy Minister for Social Services, Julie Morgan adds: "It is fantastic that we are able to build on the success of the Summer of Fun and continue to provide support for children and young people in Powys. Play is an important way we can help our young people re-engage and develop their skills to strengthen their social, emotional and physical wellbeing."
Councillor Rachel Powell, Cabinet Member for Children's Services, said: "I am delighted that the funding has become available again this winter. Covid-19 has impacted on the emotional, social, and physical wellbeing of children and young people, so it is critical we provide opportunities to access activities to support their development and wellbeing.
I urge anyone interested in applying for funding to contact our team at childcareoffer@powys.gov.uk. You can apply if you already provide activities, or you would like to start an activity group which offers opportunity for children and young people to take part in play, sport, art or cultural activities.
Deadline for applications is 26 November 2021.
Families and young people across Powys should look out for more information about activities sessions soon.