Cancer Patients share their stories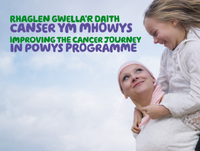 24 November 2021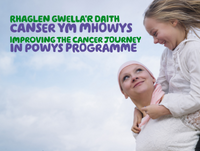 A compendium of patient stories which opens the door on the personal journeys and experiences of people living with cancer in the county has been created and published as part of the Improving the Cancer Journey in Powys programme.
Developed following detailed conversations and interviews with Powys residents who got in touch with the programme, each story provides rich insights into how and what a cancer journey looks like, feels like, what support is in place and what gaps exist. The compendium includes ten stories from people who have received a cancer diagnosis plus five from family members who have cared for but lost loved ones.
Each story ends by listing the key themes that were identified like pre-diagnosis, diagnosis and prognosis, the co-ordination of care, relationships and communications, emotional support and care, transport and travel, patient voice and choice, and carers rights and voice. During the past 18 months over 40 patient stories have been captured and analysed drawing out ten key themes which reoccur for people living with cancer in Powys.
The stories have been uploaded onto the programme's website alongside a detailed progress report and an infographic which outlines the key milestones met during the first stage of the three year Macmillan funded programme. Powys County Council and Powys Teaching Health Board are key partners in delivering the programme.
Richard Pugh, Head of Partnerships for Macmillan Cancer Support in Wales, said:
"People living with cancer are at the heart of our programme. This compendium of patient stories has allowed us to not only hear their voices loud and clear, but to share them so as to raise awareness and better understanding of the cancer journey being taken by Powys residents, their unpaid carers, families and those important to them.
"Their experiences and insights are invaluable in shaping how and what it is we need to put in place in Powys to better support people once they have a diagnosis and I'd like to thank everyone who has been in touch and shared their story with the ICJ team to date."
Councillor Myfanwy Alexander, Cabinet Member for Adults Services at Powys County Council, said:
"We have learnt so much already from these stories but have more to do to improve the cancer journey for our residents. That's why this programme exists. Our aim is to ensure we offer each and every resident the chance to talk through all their thoughts, concerns and worries - not just their medical ones - at the start of their cancer journey so they can access any support they need or want. We currently have three pilot projects in place through PAVO, Credu and the Bracken Trust which offer people diagnosed with cancer the chance to have a supportive conversation using Macmillan's trusted holistic needs assessment tool as a guide. Please see our website for more details or email ICJPowys@powys.gov.uk"
More details about the programme and the holistic needs assessment offer can be found in the compendium and on the main webpage. https://www.powysrpb.org/icjpowys
Comprehensive information and support, including Macmillan's latest guidance and advice on the impact of coronavirus on cancer care, is available on www.macmillan.org.uk The Macmillan Support Line is open seven days a week between 8am-8pm on 0808 808 00 00.