YFC members receive Silver Kite Award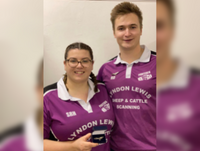 25 November 2021
Two members of Brecknock Federation of Young Farmers' Clubs have been recognised for their efforts by the Chairman of Powys County Council.
Raiff Devlin and Sian Healey have received Silver Kite Awards from Cllr Gwynfor Thomas for their commitment to not only their club members but the wider community too.
Mr Devlin and Ms Healey, current Chairman and Secretary of Pontfaen Young Farmers Club, have organised events engaging the general public and have been instrumental in maintaining a strong and closely knit community within the Yscir ward.
They were nominated by Cllr Iain McIntosh, Local Member for Yscir, who said: "It was a privilege to nominate Sian Healey and Raiff Devlin for a Silver Kite award this year.
"Together, both Sian and Raiff have helped lead Pontfaen YFC from strength to strength, achieving recognition not only at Welsh level, but UK wide too, the club now has almost 50 active members.
"Both Raiff and Sian fully deserve recognition for the contribution they have made to the community in recent years."