Stay safe on your new bike this Christmas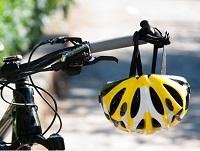 8 December 2021

As Christmastime approaches, Powys Road Safety Team would like to remind anyone getting or gifting a new bike this Christmas, to make sure that it comes with the appropriate safety gear too.
A new bike is often high on the wish list for many children (and adults) at Christmastime. But it is important to remember that bikes should also come with the appropriate safety gear, so riders stay safe, especially in the winter months.
If you are buying a bike for a lucky loved one this year, here is a checklist of things to remember:
Make sure the bike is safe and roadworthy
New bikes often need to be assembled at home - make sure you follow the instructions carefully and check that everything, including the gears and brakes, are working correcting before using.
Second-hand bikes are often a great buy, but get them checked over and make sure they are safe to ride before being giving as a gift.
Always make sure the rider has a well-fitting cycling helmet to reduce the risk of a head injury during a fall or accident.
It is advisable to wear bright and light coloured, or reflective, clothes when on the bike to increase visibility to other road users, especially during these winter months. You don't have to wear special cycling gear - you can buy inexpensive reflective stickers to add to coats or a simple high vis sash to wear when on your bike.
If riding on the road, please make sure that the bike has working lights, front and back, which can be used during these dark winter days and evenings. It is illegal to ride a bike on the road when dark without lights.
Evidence shows that training offers the best way of ensuring riders stays safe on a bike. Many Powys schools offer national standard cycle training to their students. You can find out more information on these schemes on our website: https://en.powys.gov.uk/article/4040/Bicycle-Safety-Schemes
"A new bike has always been a popular choice for children to add to their Christmas lists, and more and more of us, adults included, are riding bikes and enjoying the benefits of cycling, than ever before." says Cllr Heulwen Hulme, Powys County Council Cabinet Member for Highways.
"However, it is important to remember to stay safe when out on your bike. That is why we would like to remind those of us lucky enough to be getting or gifting a bike this Christmas, that it is advisable that the rider has all the necessary kit and skills to help keep them safer when cycling."
For more information on cycling and road safety, please follow the Powys Road Safety Team on Facebook and Twitter