Head of Education Appointed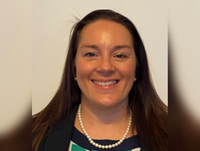 9 December 2021
A new Head of Education has been appointed in Powys, strengthening the county council's senior education team.
Georgina Bevan, who is currently the Principal Curriculum Partner for the South-East Wales Education Achievement Service, has been appointed Head of Education for Powys and will take up her role in March.
Originally from Berkshire, Georgina became a math's teacher nearly twenty years ago and has held leadership positions throughout her career in education. She has had significant experience of school improvement as both a senior leader where these improvements were acknowledged nationally and in her current role where she works alongside senior leaders to drive school improvement.
She currently lives in Brecon with her husband Jason and two children Ellis and Cali.
She is a former Olympic athlete having competed at Judo in the 2004 Athens Olympics and is a former Commonwealth and European champion.
Georgina said: "I became a teacher to make a difference to the lives of young people and I am now very excited about improving the opportunities for the young people across Powys"
Cabinet Member for Education, Councillor Phyl Davies said: "We are delighted to welcome Georgina to Powys as Head of Education and look forward to her strengthening strategic leadership across the service. As a parent with two children in Powys schools she will have a keen interest in helping deliver the council's vision for the county and its communities."
Her appointment follows a decision by the council earlier this year to create two senior education posts, a Director of Education and Head of Education, following a review of the organisation's senior management structure.
Former headteacher and Interim Chief Education Officer, Lynette Lovell was appointed Director of Education in September.