No changes to Christmas recycling and waste collections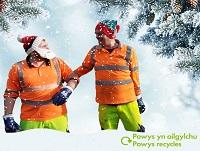 13 December 2021
There will be no planned changes to the normal kerbside collections for recycling and waste over Christmas and New Year this year, with all collections scheduled for bank holidays taking place as usual.
With the hardworking crews agreeing, once again, to work over the bank holidays, households will be able to put their recycling containers and bins out for collection as normal on the three festive bank holidays: Monday 27 December, Tuesday 28 December and Monday 3 January.
With collections scheduled throughout the festive period, we are encouraging households to make use of the service and reduce, reuse and recycle as much of their Christmas waste as possible.
Cllr Heulwen Hulme, Cabinet Member for Waste and Recycling, said: "Christmas is a busy time of year for us all, but it is really important to remember to recycle as much as possible over the festive period.
"Each one of us generates a huge amount more waste than normal over Christmas and New Year, but most of it can be recycled - tin foil, food, glass jars and bottles, real Christmas trees, plain Christmas cards and wrapping paper, batteries, plastic pots and bottles.
"Our crews will be working over the bank holidays to ensure that there will be no changes to the collection days this year, so please remember to put all of your recycling containers and bins out to be collected as normal."
Please check our website for details of the household waste recycling centre Christmas opening times and keep an eye on our social media pages for any service changes needed as a result of extreme winter weather or any other unforeseen circumstances.