Good supply of LFT kits in Powys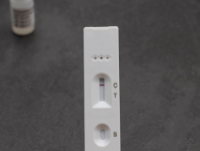 16 December 2021
Rapid lateral flow test (LFT) kits are in good supply and are available to collect from many locations across Powys, the county council has said.
With the testing criteria being expanded so anyone can qualify for an LFT test, Powys residents are being reminded that they can be collected from many of Powys' libraries as well as local pharmacies.
About one in three people with coronavirus do not have symptoms but can still infect others.
Getting tested regularly is one way to know if you have the virus. If people test positive and self-isolate, it helps break the chain of transmission and limits the spread of the virus.
LFTs are only for people who do not have coronavirus symptoms.
Residents are encouraged to take an LFT test twice a week if they are:
not fully vaccinated
classed as vulnerable
in close contact with a vulnerable person
spending time in a higher risk environment
If you have COVID-19 symptoms you need to book a PCR test (on gov.uk).
It is beneficial to use rapid lateral flow tests in the following situations:
you are a volunteer
you cannot work from home
you are an unpaid carer
you are visiting Wales from elsewhere
you are travelling to other areas of Wales or the UK
your health board requires testing before hospital visits
you or your partner are using hospital maternity services
you are the parent, carer or guardian of a child in hospital
you are going to an event that requires it
you have been in contact with someone who has tested positive and/or been pinged by the app and wish to undertake additional tests alongside the PCR tests advised at day 2 and day 8
If you get tests through your employer or education setting you should continue to do so.
To find your nearest local library or pharmacy that has a supply of LFT kits visit https://maps.test-and-trace.nhs.uk/
You should test twice a week, three to four days apart. Please report rapid lateral flow test results (on GOV.UK) the day you or someone in your household takes the test.
If your test is positive, you should book a PCR test within 24 hours of the positive lateral flow test result.