Driver Theory Refresher workshops available for mature drivers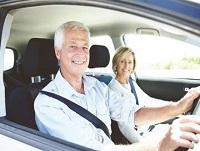 5 January 2022
Are you aged over 65 and living in Powys?
Mature drivers are being given the opportunity to revise and improve their road knowledge by taking advantage of a free, online driver theory course, organised by the county council.
Powys County Council's Road Safety Unit will be holding its Driver Theory Refresher workshop on the following days:
Wednesday 19th January 2022
Wednesday 16th February 2022
Wednesday 16th March 2022
The course is a two hour, online informal workshop designed to update your knowledge of the road in an ever-changing environment, thus helping improve your driving skills and keep you driving safely.
The course includes 'The Fatal Five'; what to do when encountering vulnerable road users such as motor and pedal cyclists, and equestrians, eyesight requirements, medication and alcohol laws, what to do in the event of an accident, and much more.
Attendees will also be given information and contact details about going on one of the free, one hour 'Drive-On' assessments with a local ADI (Advanced Driving Instructor).
Cllr Heulwen Hulme, Cabinet Member for Highways, said: "Ensuring that our roads are safe is hugely important for our county. I would urge mature drivers across Powys to take advantage of this fantastic scheme. These free workshops are so important because they will refresh and update essential driving skills and could ultimately help save lives."
For more information and to book a place on our up-and-coming courses, please contact Miranda Capecchi, Road Safety Project Officer on:
Phone: 01597 82 6924
Email: miranda.capecchi1@powys.gov.uk