'Books About Cancer' available to borrow from Powys libraries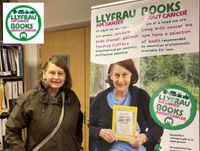 5 January 2022

Powys residents living with or caring for a loved one with cancer are now able to borrow a selection of books recommended by Macmillan professionals from the county's library service.
Four sets of 50 books have been purchased thanks to a grant from Powys Teaching Health Board's Charitable Fund to the Improving the Cancer Journey (ICJ) in Powys programme.
The list includes factual books about cancer plus some about people's experience of living with cancer. Residents can search and request a book from the online library catalogue available at https://en.powys.gov.uk/libcat or by popping into their local branch and asking or picking up a leaflet which lists all the titles.
The Books About Cancer project forms part of the Improving the Cancer Journey in Powys (ICJ) programme which is a partnership between Macmillan Cancer Support, Powys County Council and Powys Teaching Health Board. ICJ Programme Lead Meinir Morgan explains:
"The focus of the ICJ Powys programme is to better support our residents by offering what's called a holistic needs assessment so they can discuss and identify their key concerns following a cancer diagnosis and get support at a local level. This might include things like advice about benefits, when to return to work, access to a local group or a befriending service or help with shopping or care needs. Our books about cancer might also provide a helpful reference for someone living with cancer including family, friends or carers."
Jeremy Tuck, Assistant Medical Director at Powys Teaching Health Board said:
"In a rural county like ours with no district general hospital, the vast majority of residents have to travel out of Powys to receive their diagnosis and treatment and we know that many feel isolated and unsure where to go for help on their return home. Thanks to the donations made by patients to our Charitable Fund, we've been able to source and secure 200 books rubber stamped for quality and reliability by Macmillan. They provide a welcome extra resource for people living with cancer or family members to borrow as and when they wish to do so."
Councillor Rachel Powell, Cabinet Member for Powys Libraries said:
"Powys Libraries are really pleased to be able to work with the ICJ in Powys programme to stock a range of books about cancer which are now on our shelves and freely available for anyone who needs them. Reading can provide both a source of comfort or inspiration, but also very factual and relevant information which may be helpful for people living with cancer. Over time we hope these books prove to be a welcome and well-used resource."
Two Welsh books were also sourced by the programme team and Library Service which have not been reviewed by Macmillan but might be welcomed by those who first language is Welsh.
More details about the programme can be found at: https://www.powysrpb.org/icjpowys
For information, support, or just a chat call Macmillan free on 0808 808 0000 or visit their website: www.macmillan.org.uk