Headteacher and Deputy announced for Ysgol Bro Caereinion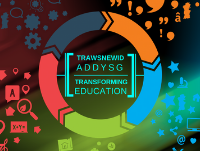 25 January 2022

The appointment of the Headteacher and Deputy Headteacher for Ysgol Bro Caereinion signifies an important milestone and progress in the establishment of the new all age school at Llanfair Caereinion due to open in September 2022.
Huw Lloyd-Jones has been appointed as the Headteacher and Edward Baldwin as Deputy Headteacher following an extensive recruitment process overseen by the Temporary Governing Body of Ysgol Bro Caereinion.
Huw Lloyd-Jones, is currently Assistant Headteacher at Ysgol Llanfyllin and Edward Baldwin is the Acting Deputy Headteacher at Caereinion High School.
Cllr Gareth Jones, Chair of Temporary Governing Body of Ysgol Bro Caereinion said: "We are delighted to have appointed a Head and Deputy Headteacher for Ysgol Bro Caereinion and we look forward to working with both in the transition to the new school."
Mr Lloyd-Jones, a fluent Welsh speaker lives with his family in Llanfechain, Powys. He attended Ysgol Gyfun Dyffryn Aman, and is a graduate of Lampeter University. He brings extensive experience of establishing an all-age school and working effectively with staff and parents every step of the way. Mr Baldwin is a former pupil of Ysgol Uwchradd Caereinion and a graduate of the University of Wales Institute Cardiff. Since he joined the Senior Leadership Team of Caereinion High School in 2018 Mr Baldwin has led an effective new behaviour policy which has since been embedded within the school's culture.
Commenting on his appointment, Mr Lloyd-Jones said: "It is a huge honour and privilege to be appointed as the Headteacher of Ysgol Bro Caereinion. The school's vision to deliver the best opportunities for all pupils through high-quality bilingual education chime closely with my own. I look forward to joining the community, getting to know pupils, staff and parents and building new relationships."
The Temporary Governing Body of Ysgol Bro Caereinion recently approved its Welsh Language vision for Ysgol Bro Caereinion which sets out working alongside the community to gift children with the ability to live bilingually from the cradle to the workplace. The vision provides a route map to deliver bilingual education to the highest standard.
Cllr Phyl Davies, Powys County Council's Cabinet Member for Education and Property, said: "I would like to congratulate Huw and Edward on their appointments as headteacher and deputy headteacher at Ysgol Bro Caereinion.
"I look forward to working with Huw and Edward as we work together to improve outcomes for our learners as well as develop and enhance the Welsh-medium provision in Llanfair Caereinion. I wish them both the best."
Ysgol Bro Caereinion will officially open in September 2022 on the current sites of Llanfair Caereinion C.P. School and Caereinion High School.