Views sought from Care Experienced young people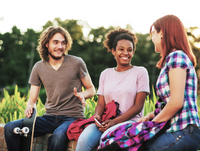 2 February 2022

Young people aged 16 - 25 who have previously been looked after by Powys County Council's Children's Services are being asked to give their views to help identify future improvements to support young people in care.
The survey called 'Your Life Beyond Care' is open until 21 February 2022. Care experienced young people currently supported by Powys are being contacted directly to take part and by their Personal Advisors from within the Powys team.
Cabinet Member for Children's Services, Cllr Rachel Powell says: "As part of our ongoing commitment to improving outcomes for children looked after and care experienced young people, we are working with Coram Voice and the University of Oxford to undertake Bright Spots, a programme which aims to improve the well-being of children and young people in care by identifying and promoting practices that have a positive impact.
"We are now asking all of our care experienced young people aged 16 - 25 to take part in the survey. This is the second phase of the Bright Spots programme, as we asked our children looked after aged 4-18 are to take part prior to Christmas.
"This is a great opportunity for us to hear our young people's views and better understand how they perceive their care, well-being, their rights and opportunities. Listening to young people's voices in this way aims to improve our support and services. Findings will be shared later in the year."
You can find out more about the survey online at: www.coramvoice.org.uk/brightspots or email bps@powys.gov.uk