North Powys Job Fair - New year, new job?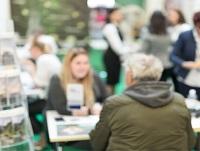 8 February 2022

Residents living in the north of the county and looking for a job will benefit from the North Powys Jobs Fair in Newtown on Wednesday 2 March, 10am - 2pm, where they can meet dozens of potential employers showcasing their vacancies and opportunities.
Organised in partnership with Careers Wales, Communities for Work+ and Jobcentre Plus the free event at the Focus Newtown Enterprise Hub is open to everyone. Whether you're hoping to find a fresh start, a better job, or a new career direction, you will find a wealth of exciting opportunities with numerous local employers from a variety of sectors.
The response from local employers wishing to take part in the jobs fair has been excellent. EvaBuild, Pave Aways, Hilltop Honey, Fashion Enter, CDT Sidoli, EOM, Wynnstay, Kiernan Steel, Makefast, Carpenter & Paterson, Charlies and Powys County Council are just some of the 30 organisations already signed up to the event.
"This event will connect our communities talented workers with Powys employers looking to recruit and is a great way to meet face-to-face, discus vacancies and career options, network and make contacts." Explains Cllr Rosemarie Harris, Leader of Powys County Council.
"Careers Wales, Communities for Work+ and Jobcentre Plus staff will also be available to offer support to jobseekers, should they require any additional help to secure employment. This is a free event and open to everyone looking for new opportunities. We hope to see you there."
North Powys Jobs Fair
When: Wednesday 2 March 2022, 10am - 2pm
Where: Focus Newtown Enterprise Hub, Pryce Jones Building, Old Kerry Road, Newtown. SY16 1BP
More details: 07971 878358 / alice.kirwan@powys.gov.uk
The event will be held in accordance with Covid-19 compliant guidance. Masks must be worn at all times and social distancing measures will be in place. Please do not attend if you are experiencing any coronavirus symptoms.