Organisations benefit from donations by council contractor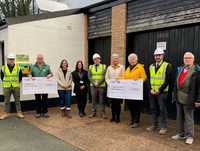 8 February 2022

Two organisations in Llanidloes have received £1,500 each from a construction company that is building new council homes in the town, Powys County Council has announced.
Contractors J. Harper & Sons (Leominster) Ltd have donated the money to Llanidloes Dial-a-Ride and the Llanidloes and District Sports Partnership.
The contractors are currently building 22 new council homes on the former livestock market on behalf of the council's Housing Service. The donations by the company are part of their social value commitments.
The company have also donated a brand-new defibrillator for the town thanks to their partnership with AEDdonate, a charity committed to improving survival from out of hospital cardiac arrests and supporting the placement and use of Automated External Defibrillators (AED) to local communities. The defibrillator will be located at the Town Hall.
Peter Taylor, Senior Contracts Manager with J. Harper & Sons (Leominster) Ltd, said: "We are delighted that we have been able to donate £1,500 to Dial-a-ride and the Llanidloes District Sports Partnership. It was great to have the opportunity to speak directly to the volunteers to understand the positive impact donations like ours have on the charities.
"Not only this, we are thrilled that together with AEDdonate we have been able to fund a brand-new defibrillator which is a much -needed lifesaving piece of equipment, especially in a rural town such as Llanidloes, Powys. It's great that we have had the opportunity to work alongside these fantastic charities and give back to the communities in which we are working in."
Shan Davies from Llanidloes and District Sports Partnership said: "Funding from sources like Harper are invaluable and allow us to continue to support the local community in staying active and providing them with the facilities and equipment to do so."
Ian Brown Llanidloes Dial-a-Ride said: "Donations are very important to the scheme to ensure the service remains viable. The service was set up to provide a sense of freedom for members. It has been a difficult time for the elderly, but the service is allowing them to make positive steps towards normality."
Jamie Richards Chief Executive Officer of AEDdonate said: "We are delighted that Harper Group, together with AEDdonate, have funded a brand-new public access defibrillator for the town of Llanidloes. Congratulations to everyone involved for keeping their community safe in the event of a sudden cardiac arrest."
The development at Gorn Road is part of the council's Transformation Programme to deliver aspirations in Vision 2025, which is to build 250 new homes by 2025. Two four-bed houses, four two-bed houses, six three-bed houses, eight two-bed bungalows and two three-bed dormer bungalows will be built as part of the development.
Cllr Myfanwy Alexander, Cabinet Member responsible for Housing Service, said: "We always encourage our contractors to form strong relationships with the communities in which they are working and this is an excellent example of just such a partnership."