Ysgol Cedewain project reaches important milestones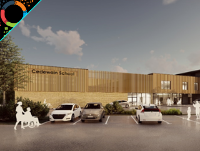 8 February 2022

A building project that will transform education for pupils with additional learning needs in Powys has reached two important milestones, the county council has said.
Last week (Thursday, February 3) planning permission was granted for a new state-of-the-art campus for Ysgol Cedewain in Newtown.
The new build replaces very poor accommodation at the current Ysgol Cedewain school, and will include facilities for very vulnerable learners, including a hydrotherapy pool, sensory and physiotherapy rooms and garden as well as a community café.
The new build will enable staff to teach in a learning environment that is fit-for-purpose, and for parents to have the confidence that their children are being supported within the best facilities and accommodation.
And today (Tuesday, February 8) Cabinet gave the go-ahead to submit the Full Business Case to the Welsh Government's 21st Century Schools Programme for capital investment to replace the existing school.
The estimated cost of the overall project is £19.7m with Welsh Government funding 75% of the costs and the council funding 25%.
The plans for Ysgol Cedewain are part of the council's Transformation Programme to deliver aspirations in Vision 2025 as well as deliver the Strategy for Transforming Education in Powys 2020-2030.
Karen Gittins, Executive Head Teacher for Ysgol Cedewain, said: "This is a really exciting time for the local community and for the special school community in Powys. Children with the most complex needs will have access to superb facilities in a secure, safe environment and the new school will enhance their learning experiences and those of their peers for years to come."
Cllr Phyl Davies, Cabinet Member for Education and Property, said: "I'm delighted that our planning application has been granted and that Cabinet have given the go-ahead to submit the Full Business Case to the Welsh Government for capital investment. Our ambitious plans for Ysgol Cedewain will see us provide a world-class facility for our most vulnerable learners.
"When complete, it will provide an environment where teaching staff can thrive and give vulnerable learners facilities that meets their needs, they benefit from and enables them to enjoy learning."
For more information about Transforming Education in Powys, visit Transforming Education