Refurbishment work to Family Centre Development in Welshpool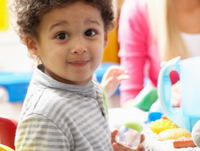 15 February 2022
The Oldford infant school site in Welshpool will undergo refurbishment work to create an Early help hub for families in the area.
The Centre will be a "one stop shop" providing services to support families' learning, social care and health needs. The centre will provide activities such as parent and toddler groups, baby massage, information, Incredible Years Parenting Training programmes, health advice, family support and counselling.
The refurbishment of the building situated in the heart of a Flying Start catchment is funded by Welsh Government Flying Start Capital funding. Pave Aways Building Contractors has been awarded to carry out the work which will start next month. The contract will be managed by a team from its Newtown office and it will utilise sub contractors and suppliers in its supply chain within a 30-mile radius of Welshpool.
Cabinet member for Powys County Council's Children's Services, Cllr Rachel Powell says; 'The new centre will provide a single gateway approach for children, young people and their families to access support from a wide range of early help and intervention services all on the same site. These services will work together to meet the family's needs.
"In the heart of the community the site is an opportunity to have services in one place. It will provide childcare as well as office and community spaces.
"This will allow all families from Welshpool and surrounding areas to benefit from a co-ordinated and integrated approach to early help services and for Flying Start to provide an equitable provision across North Powys.
The Centre will offer drop-in clinics, baby groups, internal and external training courses, family engagement activities, youth clubs, supervised contact and support groups with the aim of engaging an all-age population."
The refurbishment work will ensure the expansion of nursery provision available to families from the site (currently Flying Start and Foundation Phase) by providing additional 30 hour childcare provision.
More information will follow for local families as the work progresses and how they can access the childcare provision. Families can follow @Welshpool0-5's or @Powys Flying Start/Dechrau'n Deg Powys on Facebook for update messages.