Consultation open on school admission arrangements and catchment maps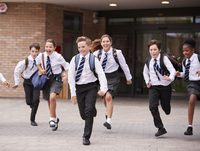 16 February 2022
A consultation on Powys County Council's school admission arrangements and catchment maps has started, it has been announced.
The council is consulting on the Admissions Information and Arrangements for 2023/24 for Early Years, Primary and Secondary schools in line with the Welsh Government's Admissions Code.
It is also consulting on the catchment maps, which identifies a person's nearest primary and secondary school. The council will use these maps when considering applications under the home to school transport policy.
Cllr Phyl Davies, Cabinet Member for Education and Property, said: "The Admissions Information and Arrangement booklet is an important document for parents when the time comes for them to apply for place either at an early-years setting, primary school or secondary school for their child.
"The booklet defines how the council will apply its admissions arrangements when considering applications. Although parents have the right to express a preference for a place in any school, consideration will be given to the catchment maps if a school is over-subscribed.
"It is important that we seek the views of people living in the county on the admissions arrangements for 2023/24 and the catchment map so their views are considered before these documents are finalised.
The admissions arrangement consultation will close on Tuesday, March 1, 2022 while the consultation on the catchment maps will close on Monday March 14, 2022.
To find out how to take part in both consultations, visit www.powys.gov.uk and search Public Consultation on school's admissions arrangements and catchment maps.