Storm efforts praised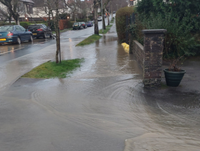 21 February 2022
Powys County Council highway staff have been praised for their actions helping to clear up damage in the wake of Storms Eunice and Franklin.
Cabinet member for Environment, Councillor Heulwen Hulme praised staff for the hard work protecting properties, businesses and road users after high winds and torrential rain lashed the county.
"Once again Powys staff were at the forefront of work to deal with the impact of not one but two devastating storms to hit the county. First, we had Storm Eunice lashing the country with extremely high winds and heavy rain leaving a trail of damage and floodwater.
"Before the waters had a chance to recede, we were hit by Storm Franklin with torrential rain and more high wind, taking flood levels to the records set by Storm Dennis. Crews across Powys were in action dealing with fallen trees, flooded roads and damage to property.
"Once again, the response from our staff was magnificent, a huge thanks to them all. They were a credit to the council," she added.