Blue-green algae levels subside at Llyn Clywedog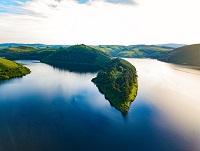 22 February 2022

Blue-green algae levels in a north Powys reservoir have subsided below the warning threshold, it has been confirmed.
The algae were identified at Llyn Clywedog Reservoir near Llanidloes last November which led to a restriction of activities at the reservoir, especially where immersion in the water was likely.
Regular monitoring by Natural Resources Wales has taken place at Llyn Clywedog Reservoir since the algae was identified. The last two consecutive weekly samples taken from the reservoir are below the warning threshold.
Natural Resources Wales have advised site owners Hafren Dyfrdwy that the blue-green algae bloom has subsided.
Hafren Dyfrdwy have informed those who operate on the water (sailing, water sports and fishing), and the adjacent landowners and visitors that the algal levels have now dropped.
The build-up of blue-green algae at Llyn Clywedog reservoir is a natural occurrence which occurs from time to time during warm conditions. It is always possible that a blue-green algae bloom may return.
For further information, contact Powys County Council on 01597 827 467.
If you have any health concerns, please contact your GP or NHS Direct Wales on 0845 4647.
To report any further signs of blue green algae, call Natural Resources Wales on 0300 065 3000, 24 hours a day.