Elan Valley Active Travel scheme to reopen shortly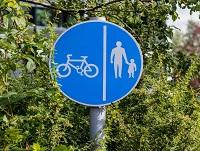 3 March 2022

As part of the active travel routes in mid-Powys, the much-improved shared use path between Cwmdauddwr and Elan village will reopen for users by the end of March.
Along with improving the surface of the shared use path, the route has also benefited from repairs and widening of bridges and gateways, shoring up of embankments, and the introduction of safer crossing points for pedestrians and cyclists.
The removal of barriers and the instructions for gates crossing the path to be left open (unless access to the neighbouring fields is required by the landowners to move stock or equipment) will ensure that the path is accessible to all users, including those using wheelchairs adapted bikes, tag-alongs and trailers for younger children and pushchairs.
"The improvement to this popular route now makes sure that path users have priority." Explains Cllr Heulwen Hulme, Powys County Council Cabinet Member for Highways.
"This means that the path is now accessible to everyone, with no barriers to negotiate and a smoother surface to make walking, running, cycling, scooting, or wheeling much easier.
"Coloured markings on the ground show where the path crosses a junction or is approaching a hazard, and signage along the route reminds users to be respectful of other users and aware of traffic crossing the path."
The Active Travel (Wales) Act 2013 aims to make Wales a walking and cycling nation. With the introduction and improvement of the active travel routes throughout the county we are endeavouring to make it possible for us to all make short journeys by physically active means, like walking or cycling. Identified as a route needing improvement through engagement with local communities, Welsh Government funding for the Elan Valley active travel route was secured last Autumn.