Recycled hand tools from Powys get a new lease of life in Africa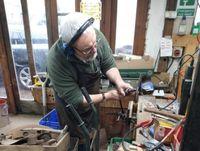 3 March 2022
New re-use scheme at Brecon Household Waste Recycling Centre sees charitable venture, Tools for Self Reliance Cymru, recycle and refurbish old and unwanted hand tools for African grass roots community groups.
Together in collaboration with Powys County Council and Potter Group, Tools for Self Reliance Cymru (TFSR Cymru) have set up the re-use scheme in Brecon which collects the second-hand tools recycled at the HWRC by Powys residents.
The tools are then collected by the Crickhowell based charity, who, with the help of skilled volunteers, refurbish the items and either sell, to raise much needed funds for the charity, or donate to grass roots community groups in Africa. In the past 35 years TFSR Cymru have sent more than a million tools to craftsmen and women in rural communities of Africa. Tools mean work, and the chance to shape their future and improve livelihoods.
"Complementing the large range of items being recycled at the HWRCs in Powys, this re-use scheme is just the latest way in which we can help ensure we reduce, reuse and recycle as much of our waste as possible." Explains Cllr Heulwen Hulme, Cabinet Member for Waste and Recycling.
"We already have a number of reuse and repair centres within the county, but this specific scheme with TRSR Cymru is unique in providing the necessary tools and equipment to communities in Africa, ensuring they are equipped to build a better way of life."
Having initiated the meeting between the council and TFSR Cymru to consider how hand tools could be collected for re-use, Cllr Liz Rijnenberg and Cllr Marie Matthews said: "We are delighted that this community driven initiative has been set up and we hope that more projects like this, both large and small, can be developed."
Debbie Potter from Potter Group added: "Sustainable waste management and recycling initiatives are at the heart of what we do, and we are really happy to be able to support the TRSR Cymru re-use scheme in Brecon and contribute this worthwhile local charity by helping to give unwanted tools a new lease of life."
Ian Jones is the co-chair of Powys based TFSR Cymru: "TFSR Cymru are delighted to work with Powys County Council, Potter Group and local community groups in this initiative. With their help we can refurbish and give new life to old tools and sewing machines and improve livelihoods for rural Tanzanian families."
Photo: TFSR Cymru volunteer, Frank Olding, refurbishing some of the second-hand tools.