The right help at the right time for families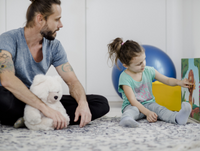 4 March 2022
The Powys Early Help strategy published by Powys County Council
sets out a roadmap for how services, partner agencies and communities can work with children and families addressing problems when they arise
to ensure they get 'the right help at the right time'.
​
The Powys Early Help Strategy establishes a common understanding of Early Help and ensures those working with families in Powys can see how their contribution makes a difference to the lives of children and young people.
The Strategy, approved by the Powys Start Well Board, describes how partners can work together to ensure that families receive accessible, co-ordinated Early Help when they need it.
Powys County Council's Cabinet Member for Children's Services, Cllr Rachel Powell says: "In Powys we have recognised that a quick response is essential for families who need some support and to achieve this we have developed our Early Help approach. 
"Early Help may be needed at any point in a child or young person's life. We are working together with our partner agencies to support families through a strengths-based approach. We aim to build resilience and capacity and develop skills and confidence which will improve the daily lived experience of our children, families and communities.​
"The Early Help Strategy identifies key milestones such as the development of Early Help Hubs. There is a well-established Early Help Hub in Newtown and work is well underway for the development of Early Help Hubs in Welshpool and Brecon. We are working to expand the Early Help Hubs across Powys to enable children, young people and their families to access a range of locally based support such as parenting groups, drop-in sessions and Flying Start childcare."
In line with the Early Help Strategy, Powys County Council's Early Help Team offer advice, support and coordination to professionals and families.
Children, young people and families can be supported individually, focused on individual's identified needs and goals. The Early Help Team offer structured parenting support with programmes such as Incredible Years and the Pre-school and Autistic Spectrum Disorder programmes. The Family Information Service is part of the Early Help team which has a range of information for children and young people aged 0-25 years and their families. 
To read the strategy or learn more about Early Help in Powys and how we can work together to deliver the right help at the right time visit our Early Help Team page or call the Early Help team on 01597 826246.