Transformation Programme review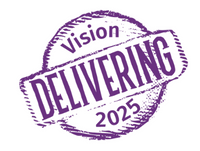 10th March 2022

Positive and sustained progress has been made by transformation projects at Powys County Council, Cabinet will be told this week.
A report has been published to review the Vision 2025 Transformation Programme - a co-ordinated group of projects to drive transformation at the council to help meet the aspirations in Vision 2025.
The report captures the achievements, progress to date, and lessons learned across the programme and has been welcomed by Leader of Council and Chair of the Transformation Board, Cllr Rosemarie Harris.
Cllr Harris said: "We launched Vision 2025 with the aim to make Powys a fantastic place in which to live, learn, work and play. As we near the end of this council term, this report gives us the opportunity to look back on progress so far and what lessons can be learned to support work in the future.
"I am delighted with what has been achieved and would like to thank all the officers involved. Despite the challenges of the pandemic, there is much to celebrate in terms of positive and sustained progress within the projects."
Key achievements for the Vision 2025 Transformation Programme, which are highlighted in the report, include:
Mid Wales Growth Deal - securing a deal with a ground-breaking partnership bringing a combined investment of £110m from UK and Welsh Government. This is expected to lever in additional investment from other public and private sources.
A new strategy developed and implemented for Transforming Education in the county. Since it was approved, the council has established all age schools, introduced a new structure to oversee post-16 schools' provision, approved the Welsh in Education Strategic Plan and established a satellite provision in the middle of the county so that learners with additional learning needs are as near to home as possible.
118 new affordable homes in the county (79 of these currently under construction). An additional 109 houses awaiting appropriate consent.
Building work underway for two new Extra Care sites to provide additional housing for older people. A proposal for a third site being prepared for planning, with other locations also being identified.
A Strategic Outline Case prepared for the North Powys Wellbeing Project in readiness for Welsh Government approval.
Over 100 processes redesigned and launched on the website, enabling easier customer interaction and 24/7 accessibility.
Improvements to business planning and budgeting processes.
You can view a copy of the report on the Council's website - End of Administration Programme Report.
The report will be tabled at Cabinet on Friday (March 11) and the Vision 2025 Transformation Programme Board on March 25.