Really Reptile Roadshow visits Brecon Library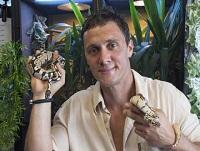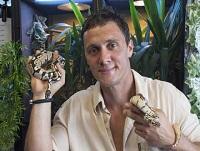 A south Powys library hosted a roadshow with a difference where children and parents came face-to-face with some very unusual visitors.
Brecon Library hosted the Really Reptile Roadshow at the end of last month (August) where the roadshow's Jos Leggett introduced several reptiles to children and parents.
"The children and staff were fully engaged and asked many questions," said Jos.
"The seemed particularly interested in my African experience of living in the west and centre tropics, which is uniquely included into my workshops.
Children who attended the event in Brecon Library listened to Jos's experience and knowledge of the creatures and they also had the opportunity to handle the reptiles, under Jos's expert supervision.
"Old folklore traditionally depicted reptiles as a symbol of evil. Part of my job is to change people's perceptions and beliefs and concentrate on dispelling myths about these fascinating cold-blooded creatures," Joe added.
"I truly believe they came away feeling they had learnt something positive about snakes which often get bad press. I keep and look after many different captive reptiles and snakes from around the world. It is better to understand them and preserve their well-being than to fear and persecute them. I hope that I have managed to pass on this real passion of mine on to them."
Cllr Rachel Powell, Cabinet Member for Libraries, said: "This has been a great success and such a unique method to engage children. I would like to thank Jos for coming into the library and assisting in the promotion of the Summer Reading Challenge scheme.
"This demonstrates that libraries are evolving and that they hold a wide range of resources for children. It highlights that libraries hold a key to information gathering and sourcing for specific topics that encompasses people's interests.
This event will inspire many research as an exciting and enjoyable experience that assist all ages to identify with the outside world within a local resource. Libraries are not just about story books - but have a great choice in non-fiction for children to read."
For more information on Jos Leggett's Really Reptile Roadshow visit www.facebook.com/thereallyreptileroadshow/