T4 Bus survey launched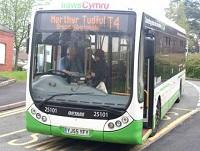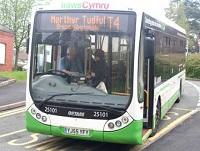 Passengers using the T4 bus service which currently runs from Newtown to Cardiff are being invited to give their views on plans which could see the service expanded and improved.
Options being considered include scope to extend the route to travel northwards to other towns like Welshpool or Chester alongside improving connections with the rail network to speed up travel times for passengers.
The Welsh Government announced extra funding of £425k for Powys last month to boost the travel network across Wales. Powys County Council is keen to hear from both current users of the T4 service alongside residents who may consider using a new look service.
Councillor Liam Fitzpatrick, Cabinet Member for Highways said: "In a rural county like ours, public transport provides a crucial lifeline for those without another mode of transport and we need to use this extra funding to best effect to improve the T4 service.
"We have some ideas on the table and need the views of both users and people who may like to use the service going forward. Whether people feel diverting off the main route to pick up passengers from smaller villages is a good idea or whether our focus should be on improving connections with trains so passengers can hop off a bus and jump on a train to Cardiff or Swansea or even Birmingham if this appeals! We think our survey covers all options so please do have your say."
To take part in the survey, click on the link. Please have your say by midnight on Sunday 15 October 2017.