Foster Care Fortnight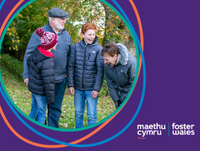 16/05/2022

This Foster Care Fortnight (9-22 May) celebrates the difference that foster carers have made to the lives of children and young people.
It aims to shine a light on the many ways people in the fostering community have supported each other during the Covid-19 pandemic - and to highlight the need for more dedicated foster carers.
Powys County Council is one of 22 local authority teams in Wales, working together as Foster Wales, a national network of not-for-profit fostering services.
Foster Wales wants to encourage more people to become foster carers for their local authority so that children can remain in their local area, close to their friends and family and remain in their school. This can help children and young people retain their sense of identity during an otherwise turbulent time.
Throughout May, our friendly fostering team from Powys County Council will be out and about to chat to you at:
Y Gaer, Brecon on Wednesday 18 May at 10am to 1pm
Smallholding & Countryside Festival, Royal Welsh Showground, Llanelwedd on Saturday 20 May and Sunday 21 May
Tesco, Welshpool on Friday 27 May - 10am to 4pm
Jan Coles, Head of Children's Services at Powys County Council said:
"The last two years have certainly been challenging but we're so grateful for our foster carers in Powys, and across Wales, who have opened their doors to children and given them a safe place during the Covid pandemic.
"By fostering with your local authority, you will help children to stay in their community, with the surroundings, school, friends and activities they know. It keeps them connected, builds stability and confidence.
"I would encourage people not just to foster, but to foster with us, your local authority, which is part of Foster Wales, a not-for-profit organisation responsible for the children in our care."
If you're interested, pick up the phone today or find out more at: www.powys.fosterwales.gov.wales / 0800 223 0627