Mental health support project launched at Powys school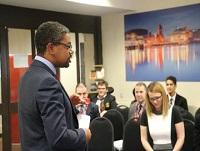 29th September 2017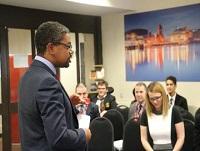 Crickhowell High School played host to not one but two Welsh Government Cabinet Secretaries this week as the Welsh Government launched its £1.4m project to provide emotional and mental health support for pupils and teachers.
The Powys school has been chosen as one of 224 schools in Wales to take part in a pilot project launched on Monday by Health Secretary Vaughan Gething and Education Secretary Kirsty Williams; a pilot which has seen UK wide media interest.
Powys County Council's Leader Cllr. Rosemarie Harris welcomed the project: "This is a tremendous initiative from the Welsh Government and I am delighted that Crickhowell High School and Brecon High Schools and their catchment areas' primary schools have been chosen to be included in this project.
"There are so many pressures on young people today, it is vitally important that the support for them when they are feeling stressed or anxious is there," said Cllr. Harris. She added that it was equally important that teaching staff were supported through this initiative.
Dedicated Children and Mental Health Service (CAMHS) practitioners will be recruited to work with pilot schools in three areas across Wales. The practitioners will provide teachers with on-site help and advice, ensuring pupils experiencing difficulties such as:
anxiety,
low mood, and
compulsive self-harm or conduct disorders receive early help in schools from suitably trained staff, preventing more serious problems occurring later in life.
Jackie Parker is head teacher at Crickhowell High School. She commented: "The importance of Key Services all working together to build the emotional resilience and look after the mental health of our young people now and in the future cannot be underestimated. This is an exciting pilot and we are delighted to be a part of it."
The model will:
Enable support for teachers to better understand childhood distress, emotional and mental health problems, and reduce stress experienced by teachers concerned about their pupils, by up-skilling them to recognise and deal with low level problems within their competence
Ensure that when issues are identified, outside teachers' competence and skills, that specialist liaison, consultancy and advice is available. These experts can help the young person be directed to more appropriate services such as CAMHS or Local Primary Mental Health Support Services. The model will also support the teacher and school in providing for the young person's educational needs
Ensure systems are in place to share appropriate information between CAMHS and schools, shared care arrangements are agreed for those young people requiring more intensive support, and that arrangements are in place to escalate/de-escalate as the young person's needs dictate.
Initially operating as a pilot programme, the initiative will commence by the end of 2017 and cover two full academic years, concluding in the summer of 2020. The results will be evaluated, and take into account a broad range of measures from the perspective of both teachers and pupils.