Powys students work for a brighter future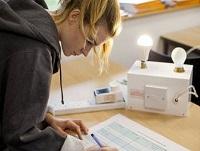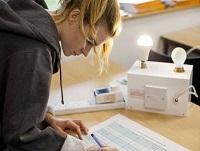 An exciting new energy-saving project is about to launch in Powys schools.
'Our Future's People', a sustainable energy project run by Severn Wye Energy Agency, will run in 10 Powys secondary schools over the next two years.
Severn Wye Energy Agency are an educational charity with offices in Llandrindod Wells and Gloucester. They have a very successful track record when it comes to educational projects having won several national and regional awards for their work.
The new programme launches this month and will be implemented in schools in the southern half of the county this academic year with Brecon High, Builth Wells High, Crickhowell High, Gwernyfed High and Ysgol Maesydderwen having been selected to take part.
Mrs Ionwen Spowage, Headteacher at Builth Wells High School commented: "We are very excited to have this opportunity to work with Severn Wye Energy Agency. We all need to develop our understanding of the dependence between humans and the environment in which we live. The project will equip the next generation with the skills and knowledge necessary to cope with the social and environmental changes that will occur in the near future."
A team of students will be recruited to lead the project activities in each school. They will carry out a technical energy survey of their school premises and report their findings along with an action plan for improving the sustainability of their school's energy use to Governors and Senior Management. They will then implement energy awareness campaigns to encourage positive behaviour change among staff, students and the wider community.
Mark Stead, Senior Education Project Manager, who will oversee the project stated: "We are really excited to be bringing this programme to Wales for the first time. We have had a great response from local organisations and schools. We have now recruited a fantastic team of students to lead the project in each school and I can't wait to start working with them. It is so important that the younger generation see the importance of protecting our planet. They will be tomorrow's politicians, scientists and decision-makers so the future really is in their hands."
As part of the programme, Severn Wye will be running a sustainability-focussed careers event for students at the Royal Welsh Showground on the 7th and 8th November. This event is open to students in years 7-13 in all schools in the county and will showcase the range of employment opportunities available within the local sustainability sector. As part of the event, Severn Wye are looking for local businesses to become involved in the event. These businesses can exhibit as part of a career pathways exhibition or their staff can work with students as they work on a range of sustainability challenges in a series of interactive workshops.
If your business is interested in taking part, please contact Owen Callender at OwenC@severnwye.org.uk. If your school wishes to attend the event, you can contact Mark Stead at marks@severwye.org.uk.
This project has received funding through the Welsh Government Rural Communities - Rural Development Programme 2014-2020, which is funded by the European Agricultural Fund for Rural Development and the Welsh Government. Additional funding has been provided through the Brecon Beacons National Park Sustainable Development Fund and the Big Lottery Fund. The project is supported by Powys County Council, Careers Wales, Rotary and STEM Ambassadors.