Free poppy-making workshop organised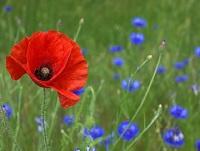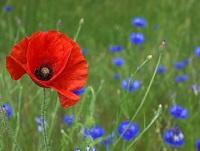 Residents in south Powys are being given the opportunity to make a textile poppy as part of a project commemorating World War One.
The Powys War Memorial Project has organised and funded a free poppy-making workshop at The Welfare in Ystradgynlais on Monday October 16 between 10am-5pm. The workshop is a drop-in session and no booking is needed.
The free workshop, which will support the Royal British Legion and be delivered by Wonderwool Wales, will give people the opportunity to make a textile poppy for the Curtain of Poppies.
The Curtain of Poppies will consist of 887,858 textile poppies. The poppies will commemorate each person from the UK who died during World War One.
2,000 textile poppies will need to be produced to represent the 2,000 men from Powys that lost their lives during World War One. The aim is to display the Curtain of Poppies at the 2018 Wonderwool Wales Festival.
Martin Weale, Cabinet Member for Regeneration and Planning, said: "The Powys War Memorials Project is about marking our respect for local people who left Powys to fight in the First World War and especially to commemorate those that did not return.
"I'm delighted we have been able to organise this workshop, which will give those who attend the opportunity to contribute to the Curtain of Poppies on behalf of Powys."
The Powys War Memorials Project, which is being hosted by Powys County Council, commemorates the centenary of World War One, and has been funded by the Heritage Lottery Fund, Cadw and the Brecon Beacons National Park Authority.
The Powys War Memorials Project can provide grants of up to £5,000 to repair, restore or maintain World War One memorials in the county. Any type of World War One memorial is eligible, including stone obelisks or crosses, stained glass windows, boards or plaques, statues or halls.
The application process for funding is quick and easy. The project can also provide funding to improve war memorial settings or surroundings such as railings, fences, gates or lighting.
For more information about the poppy-making workshop or about the Powys War Memorial Project, contact Nathan Davies, Powys War Memorials Project Officer by emailing warmemorials@powys.gov.uk or calling 07973 973 687.