Trax JH Ltd named as Powys Business of the Year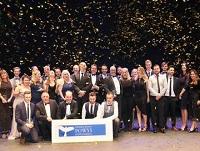 11th October 2017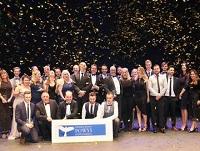 One of Europe's largest producers of wheel balance weights in the automotive industry has been named Powys Business of the Year 2017. This is following substantial increases in turnover, profit and new business.
Trax JH Ltd based at Newtown and Welshpool was also presented with the International Trade Award, sponsored by Lanyon Bowdler Solicitors, at the Powys Business Awards gala finals event held at The Hafren in Newtown, Powys on Friday (October 6).
The awards, organised by Mid Wales Manufacturing Group and sponsored by Powys County Council, celebrate the best of and excellence of businesses throughout the county.
The event's MC's were BBC Wales Today and X-Ray presenter, Lucy Owen, and her television presenter husband Rhodri Owen.
More than 230 guests attended the event to see 12 awards presented to a range of small, medium and large businesses out of a total of 30 finalists.
Cllr Martin Weale, Powys County Council's Cabinet Member for Regeneration and Planning, said: "This year's Powys Business Awards demonstrated the strength and diversity of businesses across the county.
"Not only are all of this year's finalists worthy of their nominations but they represent everything that is good about the county's businesses.
"Powys County Council is committed to developing a vibrant economy and we will continue to work with the business sector to achieve this vision.
"I want to congratulate all of this year's finalists for making this year's awards a memorable one but special congratulations go to all the award winners at the 2017 Powys Business Awards."
Trax JH Ltd designs and manufactures balance weights to a range of clients, including GM/Opel, Nissan and Renault, meeting their strict technical regulations.
It has developed production lines designated for clients and has secured new business over the past three years that has seen a significant increase in turnover and profits.
Last year the company enhanced its quality and environmental activity to meet the strict requirements of its clients and moved from ISO 9001 to achieve both ISO TS 16949 and ISO14001.
Announcing them as Powys Business of the Year, judge Bob Benyon said the company was a well-deserved winner.
The judges said: "They have secured major contracts with new and existing clients resulting in job creation and investment in new technology. Eighty per cent of their products are exported.
"The company is one of Europe's major wheel balance weight manufacturers and is certainly worth its 'weight' in gold."
Adam Watkin, Managing Director of Trax, said: "We have grown considerably this year. We have won new contracts and introduced new business systems. I wish to pay thanks to every single employee at Welshpool and Newtown without whom we wouldn't be here today accepting this incredible award."
The Judges Award went to Station Couriers of Newtown which was described by judges as an "exemplary employer."
"One of the best things about visiting this business and learning what makes the management tick was the culture in the business. It is a real family and we are sure this approach and culture is what has made this business so successful."
Winners of the Powys Business Awards 2017 were:
• Start-Up Business Award (sponsored by The County Times) - Soccerholics R Us, Meifod
• Outstanding Apprentice Award (sponsored by FSB) - Matt Price, Compact Orbital Gears, Rhayader
• Entrepreneurship Award - Nick Sanders Expedition Centre, Machynlleth
• Growth Award (sponsored by Finance Wales) - SWG Construction (Build and Renovate), Welshpool
• Excellence in Quality Management Award (sponsored by Myrick Training) - Plant-i, Machynlleth
• International Trade Award (sponsored by Lanyon Bowdler Solicitors) - Trax JH, Newtown
• Small Business (Under 30 employees) Award (sponsored by NPTC Group) - EvaBuild, Newtown
• Social Enterprise/Charity Award (sponsored by Mid Wales Housing) - Llangoed Hall, Brecon
• Micro Business (Under 10 Employees) Award (sponsored by The Cambrian News and Brecon & Radnor Express) - Varleys of Newtown, Newtown