Mid and West Wales Adoption Service launches 'Mythbusting' film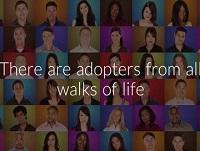 As National Adoption Week kicks on Monday, October 16, Adoption Mid & West Wales has launched a new film answering some of the questions regularly asked about adopting.
The video will also encourage people considering adoption to get in touch to find out more.
Cllr Rachel Powell, Powys County Council's Cabinet Member for Children's Services, said: "Many people do not think they have the qualities to be appropriate adoptive parents but this is not always the case.
"The truth is that all kinds of people make good adoptive parents and it doesn't matter whether you are married, single or co-habiting, with or without children of your own. We're appealing to those interested to come forward and find out more."
Adoption Mid & West Wales comprises local authority adoption services of Powys, Carmarthenshire, Ceredigion and Pembrokeshire. Across the region permanent new families are needed for children of all ages.
The regional service welcomes applications from people from all walks of life, and is particularly keen to hear from people interested in adopting sibling groups and older children.
An adoption information is taking place at the Yr Atom, King Street, Carmarthen on Thursday, October 19 from 6-7.30pm. To book places and find out more phone the team on 01267 246970
For further information about adopting in mid or west Wales contact the team on 01267 246970 or email adoptionenquiries@carmarthenshire.gov.uk
To view the video visit https://biteable.com/watch/national-adoption-week-1535488/d9de4d0212b0f784996e51f8fafca10134a0d9a1