Artistic director congratulated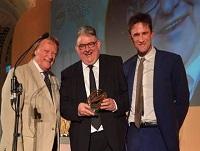 12th October 2017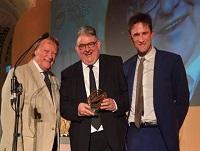 The Artistic Director of the Presteigne Festival has been congratulated by Powys County Council's Cabinet Member with responsibility for the arts. He was awarded a prestigious BASCA (British Academy of Songwriters, Composers and Authors) Gold Badge at the Savoy in London earlier this month.
George Vass has been Artistic Director of the festival since 1992. He was chosen by BASCA for his support of living composers and contemporary British music, ensuring particularly that new commissions receive much needed financial support. Other award winners this year included singer Emile Sande MBE and founding member of The Human League and Heaven 17, Martyn Ware.
Councillor Rachel Powell praised George for his achievements: "I'm constantly amazed at the enormous amount of talent there is operating here in Powys. The award shows how highly regarded George is in the music profession, not just for his support of contemporary composers and their music, but also for his curation of the Presteigne Festival and his work as a conductor."
"He has appeared at many of the UK's major concert halls and festivals, as well as appearing on BBC Radio 3 and has some 35 commercial recordings to his name. We are very proud of you, George," added Cllr. Powell.
Aside from his work in Presteigne, George is also currently:
Artistic Director of Nova Music Opera and Orchestra Nova,
Music Director of St Albans Choral Society,
Chair of the British Arts Festivals Association.
Mr Vass commented: "I feel truly honoured to have been presented with a BASCA Gold Badge Award, it is wonderful to have been recognised by members of my own profession for all the new works I have premiered and commissioned over the last 40 years."
Next year's festival takes place between August 23 and 28 and you can find out more details at https://presteignefestival.com.